Employee Development
At EFCO we are dedicated to helping our employees form their future with us. When you choose a career path with EFCO we are with you every step of the way. EFCO promotes Employee Development through:


Succession Planning
It is important to help employees recognize their potential. This is why EFCO engages in succession planning. Succession Planning is a means of identifying key positions and targeting development of current employees to fill those positions. By challenging our managers to identify employees who have the potential to advance into new roles we create internal opportunities for our employees.


Internal Posting Opportunities
EFCO is committed to helping its employees grow in the organization. This has become a venue for employees to explore internal opportunities outside of their current position. We encourage our employees to continually expand their skills.


Employee Training Classes
EFCO offers hands on and classroom training at our 45,000 sq. ft. training facility the Concrete Construction & Forming Institute. Employees from all around the world are brought to Concrete Construction & Forming Institute for position specific training. Course topics include sales customer service engineering drafting product knowledge and competitive awareness.

Employees are encouraged to complete a minimum number of continuing education credits each year. Continuing education credits can be earned by completing an EFCO training course or by attending an approved external training course or seminar on a topic related to your position.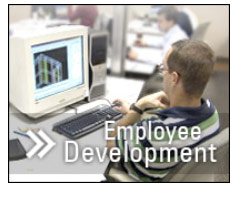 Job Tracks
Several of our positions offer growth opportunities to help you maximize your potential. We have worked hard to build Job Tracks into EFCO positions so our employees can grow within their field. This allows our employees to have the opportunity to take on more responsibilities while maintaining their overall job function.


Individual Development Plans
All EFCO employees complete an annual personal development plan. Employees are encouraged to work with their manager to come up with key learning focuses and activities as well as objectives for completion. Development plans are reviewed annually during our performance review process. This process helps our employees define a path for professional growth and advancement.